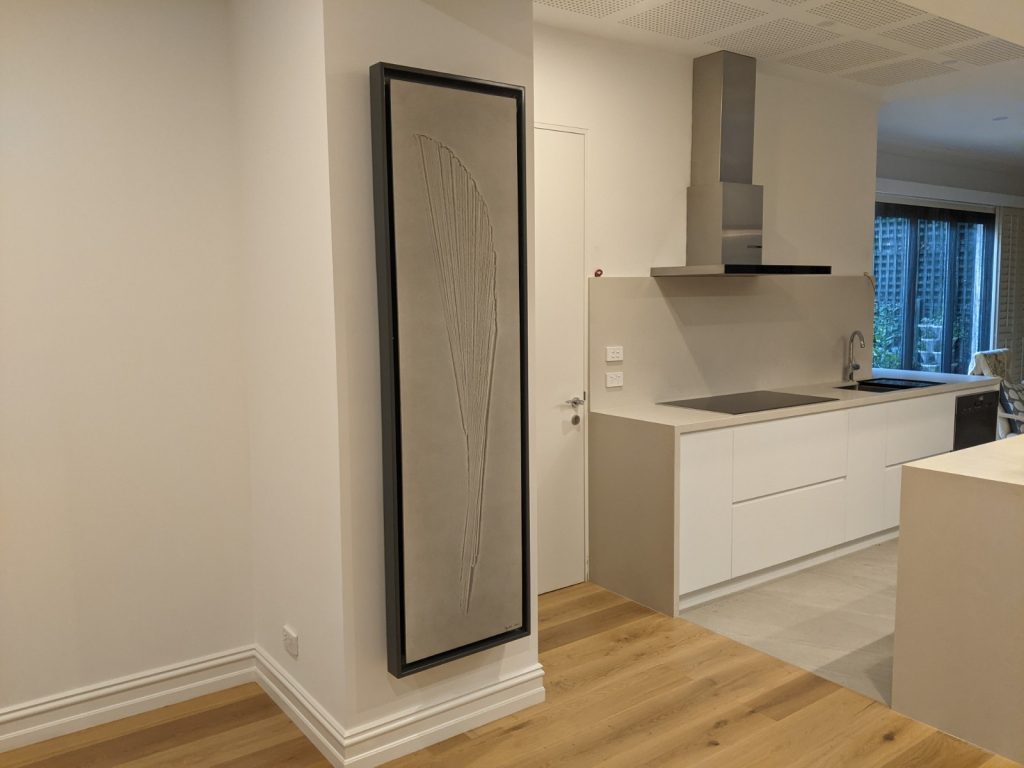 Introduction
This all-electric house renovation in Toorak involved going off gas and replacing the old ducted air conditioning system with hydronic heating and cooling.
Form, function and sound levels were all important aspects of this project. 
New radiator panels, hydronic towel rails and quiet fan-coil convectors were installed, powered by a quiet electric Stiebel Eltron air-to-water hydronic heat pump.
An electric Siddons Solarstream heat pump water heater was previously installed in 2006 and is still operating well in 2022, so that was left as is: parts.
All-electric Appliances
The reasons for replacing the ducted air conditioning system were to:
Improve the air quality for an occupant with asthma
Increase head height by removing ducting bulkheads
Reduce heat loss by removing ducting and ceiling vents
Make more efficient use of existing solar power
Reduce noise from the old ducted heating and cooling system
Cooktop
The remaining gas appliance was the cooktop. This was replaced with a Bosch induction cooktop and matching rangehood, externally vented. With this done, the owners had achieved a key objective of an all-electric house.
For someone who loves cooking, it was a big step but the resident cook now loves her new induction cooktop. It's cleaner, safer and doesn't emit poisonous carbon monoxide.
Radiator and Convector Panels
Both radiator and convector panels were chosen to provide radiant and convected heating with chilled water cooling from the convector panels only.
The main convector panel installed is a Cinier Greenor fan-coil convector. This was chosen for the main Living, Dining, Kitchen (LDK) area because it functions brilliantly and as well as being a work of art, which allowed it to be mounted prominently.
Carbon Neutral
An important objective of this renovation project was to strive for carbon neutrality as far as possible.
However, it was not possible to add more solar panels.
Heat Load
Therefore, the owners worked on reducing their heat load. Measures included:
Double- glazed timber framed windows
Improved insulation and shading
Self closing exhaust fans
Vertical Linear Panel
The house renovation opened up a large LDK area of 55m2 involving structural work. Despite the large area, only two hydronic appliances were needed to heat and cool this space:
Cinier Greenor hydronic convector
DeLonghi vertical radiator panel
The owners were keen for the radiator panel to be as invisible as possible.
Therefore, a flat linear style was chosen to blend into the wall.
Jaga Radiators
In Melbourne, heating is the main requirement during the year. 
The owners chose Jaga radiator panels for areas outside the LDK space on the ground floor.
The reasons for this choice were:
Blend with the wall
Hide the plumbing
Fast heat up
Very efficient
Effective with lower temperature water
Warm surface temperature
Heat from the hallway panel rises up the stairway and provides sufficient heat for the Landing / Study area above.
ARTU Convectors
To deal with summer heat waves, the owners chose Galletti ARTU convectors. These have proven to be most capable of conditioning the upstairs rooms in the heat.
During shoulder seasons, Melbourne's weather flips back and forth as the southerly weather fronts pass through. The Stiebel Eltron hydronic system has been set to automatically switch from heating to cooling mode. This switches the convector circuit to cooling and shuts off the radiator panel circuit.
The upstairs bathroom and downstairs ensuite have hydronic towel rails fitted to the radiator panel circuit.
They heat these bathrooms satisfactorily as well as dry the towels.