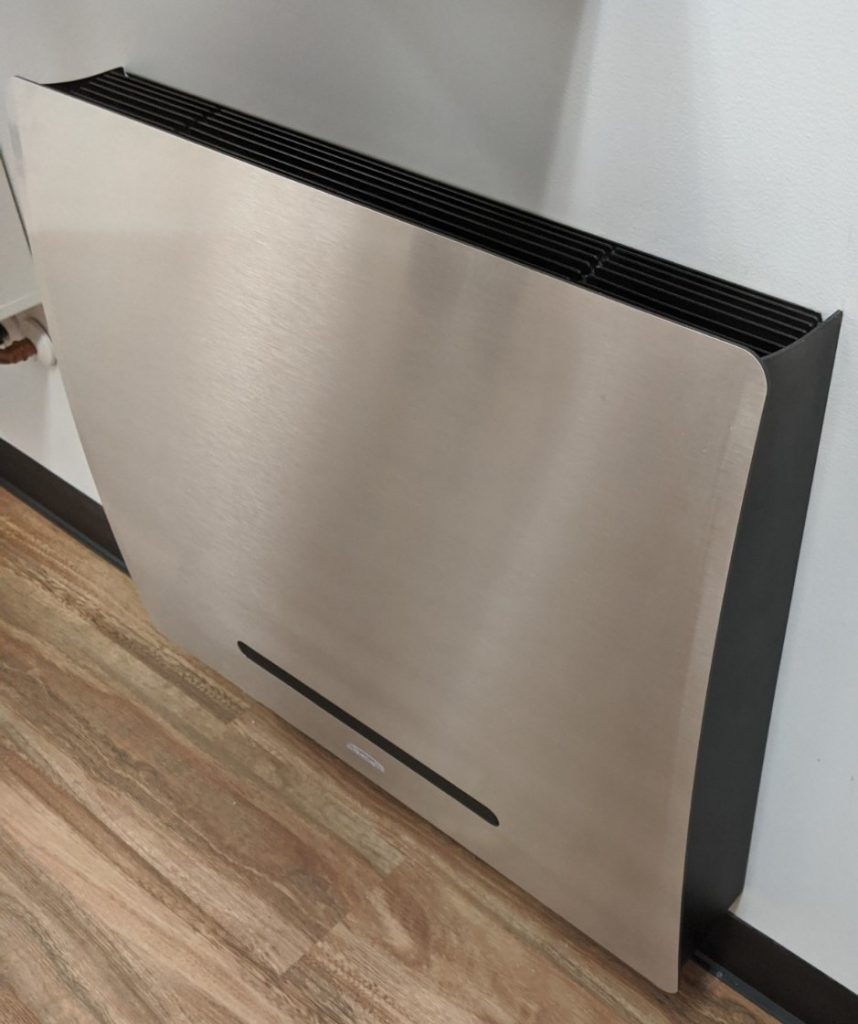 Heat & Cool Architectural Spaces
Choose Galletti ART-U Hydronic Fan Coil convectors for your architectural spaces. Use them for summer cooling instead of separate air conditioning. Run them with radiator panels or underfloor heating in winter.
Match them with an all-electric heat pump for efficient and effective hydronic heating and cooling. Use them with your solar power for low operating costs.
The ART-U hydronic fan coil has a depth of only 10cm at the top which allows it to fit neatly against your wall. There are various models ranging in height and width from 62 x 71cm to 131 x 140cm. As size increases, so does the heating and cooling capacity.
The heating output starts at 0.87kW and goes up to 3.74kW, with cooling capacity slightly less. 
The front panel standard colours are brushed aluminium, white, black or red. If these colours don't suit, request a specific colour match to your décor.
ART-U Convector Design
The front panel is made from two sheets of conductive aluminium with a flexible polyethylene core. The side panels are made from UV stabilized ABS or thermoplastic polymer to maintain colour over time.
The upper grille has adjustable fins made of anodised aluminium.
The heat exchanger inside the convector has been optimised for efficiency due to extensive testing by Galletti. It has copper hydronic coils with aluminium fins and brass manifolds. 
The fins on coil release heat in winter and absorb heat in summer.  The fins have been treated to increase efficiency and resist corrosive air environments such as near the sea.
Absorb air moisture for latent cooling. Drain this to the outside just like an air conditioner.
Clean the honey-comb washable filter periodically. You will find it is easily removable.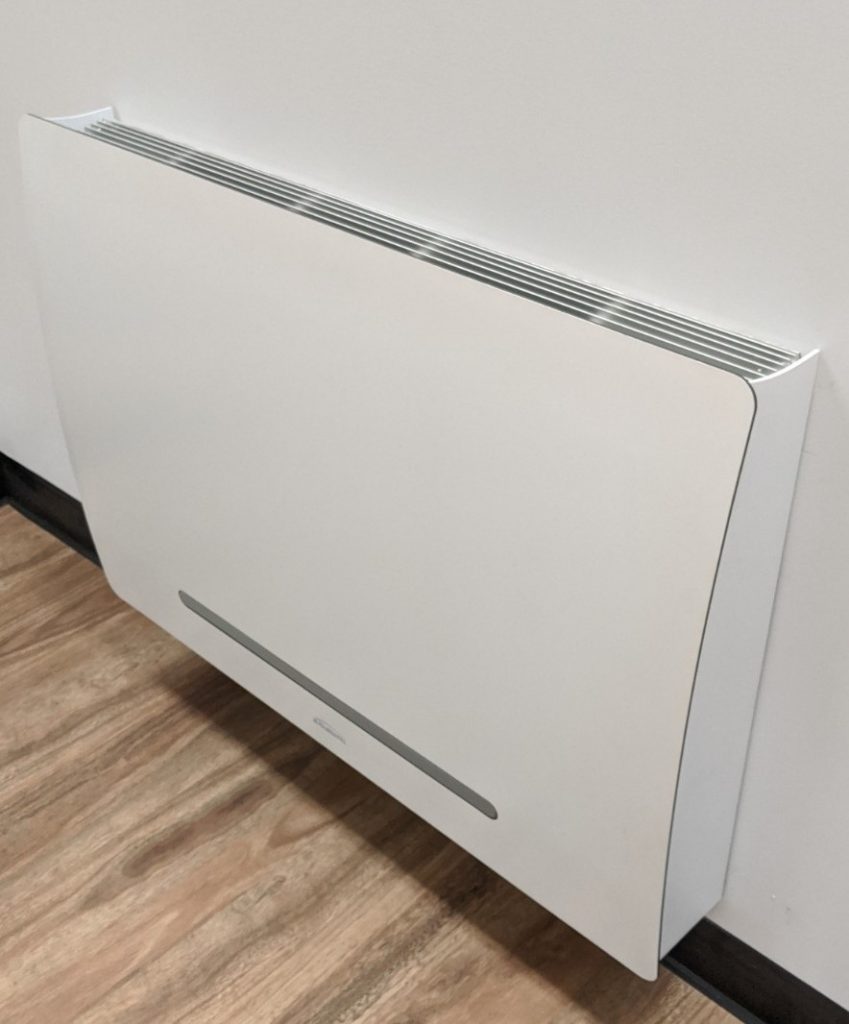 Low Noise BLDC Fan Motor
The Galletti ART U fan coil convector has a low-noise fan attached to a superior brushless DC (BLDC) electric motor. This fan only needs low speed in winter because the heat it produces creates naturally warm rising air, similar to a hydronic radiator panel.
In summer, the fan will push cool air up towards your ceiling allowing it to fall naturally, cooling your room.
Design Awards
The Galletti ART U fan coil is internationally acclaimed. It has won or been endorsed with a  number of prestigious design awards.
Water Splashing
The ART U fan coil motor also has water splashing protection rated to IP44. Therefore, it could be used in an indoor pool or spa area.
Advantages of BLDC Fan Motors
The key advantages of brushless BLDC motors over common brushed motors are:
Longer life
Higher efficiency
Lower noise
Less maintenance
BLDC motors have proven themselves since the 1980s and now feature in many upmarket appliances and power tools.
Sound Level
The sound power level of the ART U fan coil is low ranging from just 37dBa to 54dBa at maximum speed for the largest 3.74kW model.
Warranty
The Australian warranty of the Galletti ART-U Hydronic Fan Coil convector is 10 years.
More information: