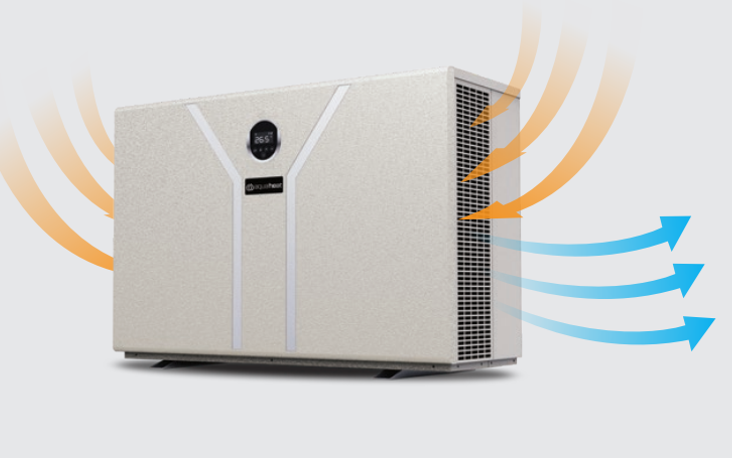 Pool and spa heat pumps with solar power are an ideal match. They do not take up roof space that can be used for solar panels instead.
Explore your heat pump options if you have a pool or spa and solar power. Weigh up whether it is better to install a separate heat pump or use your hydronic heat pump with a heat exchanger.
Browse Hydrosol's range of specialized all-electric domestic and commercial pool and spa heat pumps designed for pool and spa heating, click here.
These heat pumps are equipped with internal titanium heat exchangers suitable for both chlorine and salt water.
Heat Exchangers
For smaller pools or spas of less than 30,000 litres, you may be able to use your hydronic heat pump via an external titanium heat exchanger. 
For larger pools of more than 30,000 litres, a dedicated heat pump will be more appropriate.
Browse Hydrosol's range of pool and spa heat exchangers designed for your heat pump, click here.
Keep in mind that your hydronic heat pump can do only one task at a time. Therefore, choose a dedicated pool and spa heat pump if your hydronic heat pump is used for summer cooling.
Contact us to discuss your pool or spa heating needs.
Heating Performance
Pool and spa heat pumps are very efficient at heating them because the water temperature is relatively low. Set the water temperature to 28 degrees and you will find the heating output up to 7 times more than the power input. It may make sense to use a small gas boiler to quickly boost the heat in your spa towards 40 degrees when you wish to use it.
Heating performance depends on the weather and your water temperature. As the air warms, heat pumps will perform better. Therefore, operate them during the day with warmer air and your solar power.
Turn the heating off at night and use a pool blanket to hold onto the water heat as the air cools. Heat pumps don't have the power of a large gas boiler and therefore need time to heat. Allow a couple of days for your pool and spa to heat up.  Consider installing a gas boiler booster for heating more quickly.