Hydronic heat pumps provide heating in winter and cooling in summer in reverse cycle.
The key advantage of hydronic systems is that heat is radiated from underfloor or floor level radiator panels where heat naturally rises. This provides gentle even heat throughout your house where you feel it better. 
Reverse cycle air conditioners supply air from high level air diffusers. However, this hot air needs to be dragged down to floor level to feel comfortable in winter, which is less effective. Therefore, reverse cycle air conditioners are less efficient than hydronic heating systems.
Hydronic heating is also silent and does not blow allergens around. Quite simply, it is the most luxuriant form of heating.
Underfloor hydronic heating is the most efficient method because it requires only warm water because of its large surface area. This is easier for a heat pump than heating hydronic radiators, so requires less power.
Install hydronic circuits inside your structural slab or inside a finishing screed over the top of your structural slab. The former gives you more thermal mass to store thermal energy whilst the latter is more responsive.
Hydronic heat pumps can produce cooling in reverse cycle through underfloor hydronic pipes or fan coil convectors.  Cooling is a key advantage of heat pumps over gas boilers.
Use underfloor area cooling if you have a thermally efficient house with shading from sunshine radiation in summer. Water is moved through your underfloor pipes above the dew point. The cooling relies on the large surface area of your floor to be effective. However, it cannot provide latent cooling by absorbing inside moisture.
Install a fan coil convector circuit if you have radiators panels. This will give you a good cooling option from your heat pump in summer. It can also provide latent cooling by absorbing inside moisture.
Fan coils are designed to take chilled water from your heat pump and drain off condensation from the convector coils. Therefore, they work in a similar way to an air conditioner so you may not need to install a separate air conditioning system. Contact us to look at your project.
Install the Minitec thin capillary system if you have suspended floors. You could also consider underfloor diffuser plates or expanded polystyrene foam panels. 
Choose a system designed for dual water flow temperatures if you plan to mix hydronic systems including: 
Underfloor pipes
Radiator panels
Hydronic towel rails
Fan coil convectors
Which Hydronic Heat Pump is Best Suited?
Contact us to explore which heat pump is best suited to your project. They all have different characteristics.
Hydrosol will also consider the thermal performance of your house, your preferences, installation options and your budget in order to find the best match for you.
Hydrosol recommends three brands of hydronic heat pumps:
All of these heat pumps are well supported in Australia, with excellent reputations and warranties.
Use your solar power to operate your hydronic heat pumps during the day. Energize the thermal mass inside your house during the day then release it at night.
Install batteries for chemical storage of solar power. Alternately, make a plan to install batteries when they become more cost effective. Incorporate this into your solar power plan.
Design for an all-electric house to future proof against fossil fuel price rises.
Play your part to help reduce greenhouse gas emissions.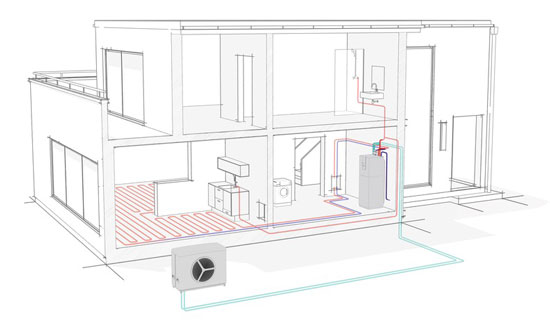 A heat pump uses a similar refrigeration system to an air conditioner. The difference is that a heat pump uses water as the medium to transfer heating or cooling from the outside air whereas an air conditioner transfers heating or cooling directly via fan coil indoor units.
Heat pumps usually extract heat from the outside air, day or night, rain or shine. Air conditioners do the same. They do not need direct radiation from the sun to operate effectively.