Consider the following in developing your solar HVAC design:
Thermal performance of your house
Amount of solar power you can produce
Your preferences around heating and cooling methods
Heat recovery ventilation
Resale value
Your project budget 
All-electric House Design
Take a holistic approach to the solar HVAC design for your all-electric house.
Let Hydrosol assist with your heating, ventilation and cooling design to maximize the benefit from your solar power. Consider also the thermal performance of your house.
For solar HVAC and water heating designs to work effectively with your solar power, your house needs to be energy efficient.
Undertake an indicative thermal performance assessment (Star Rating) as soon as possible in the design process. The initial result may cause you to revise your building design.
Thermal Performance Design
Seek advice on how best to achieve the minimum 6 Star thermal performance rating required. Consider these important factors because they affect your thermal performance assessment significantly:
Location climate (whether your house is being designed mainly for heating or cooling)
House orientation to the sun and prevailing wind
Shading in winter and summer
The internal mass of your house
The amount and type of windows, frames and glazing
Insulation of ceilings, walls and floors
Thermal bridging
Air tightness
Ceiling fans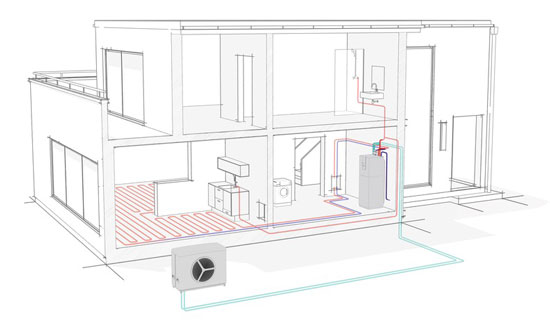 Consider whether a hydronic heat pump and/or air conditioning is better for your solar HVAC design.
If your house is well sealed, you may require heat recovery ventilation as well.
Hydronic heat pumps are a good option for southern or inland Australian locations with cool winters and low humidity. This is where heating is required more than cooling. Heat pumps can be powered by your solar power and run in reverse for hydronic cooling.
Air conditioning is a better option for northern Australian locations where cooling is needed more than heating and humidity is an issue. Air conditioners can also be powered by your solar power and run in reverse for hydronic cooling.
A combination of heat pumps and air conditioners can make good sense, paticularly for two storey dwellings in southern locations.
Click to read more: Which Air Conditioning System is Best for me?
Look at adding solar panels if your roof has unshaded sunlight and you can orient solar panels to the north, west or east.
Heat pumps are ideal with solar power because they typically deliver heating or cooling 4 or 5 times greater than their power they use.  Incorporate high internal building mass into your building design. This allows heating or cooling generated during the day using your solar power to be stored for release during the evening.
Your heat pumps and air conditioners can largely be run from your own solar power if you have good home design.
Click to read more: Managing Your Solar Power
Explore adding heat recovery ventilation (HRV) if your home is designed to a high energy efficiency standard.
New builds and renovations with 6+ Energy Rating are well insulated and well sealed. This makes a strong case for adding HRV ventilation to keep your home feeling fresh and airy without opening windows.
You need to consider more carefully your heating, cooling and water heating needs if you have an off-grid home. This is because heating, cooling and water heating represent about 70% of your home's energy needs.
If you have plenty of wood available, then you may want to use that for heating. However, heat pumps can provide a reliable back up for wood heating. They will standby and automatically switch on to add to the heating load as required then switch off. Also, their reverse cooling ability provides very efficient and low cost cooling in summer, particularly if you run them with ceiling fans on.
Consider a heat pump for heating your pool or spa. They do not take up roof space that could otherwise be used for solar panels. Also, they can extract heat from the air even when it's cold, raining or dark. They are ideal for heating during shoulder seasons to extend your swimming season.
Click to read more: Astral Pool and Spa Heat Pumps
Your hydronic heat pump may be suitable for heating your pool or spa if your water volume is less than 30,000 litres. Your hydronic heat pump will need a suitable heat exchanger to separate the corrosive pool water from your hydronic heat pump.
Click to read more: Elecro Pool Heat Exchangers
If your pool is larger than 30,000 litres, then a dedicated pool heat pump will be more appropriate.
Explore your needs
Explore your needs before moving to a draft design. Then a final design and installation plan will be developed for your build. See our process map below.
Send us information about your project, your preferences and your building plans. We will be happy to review this and provide an indicative quote. We can also make a referral to G-Store to look at your solar power requirement. These are complimentary services we offer.
Use our Quick Quote configurator. This will give you a ballpark idea of the cost of supply and installation of a quality system. Contact us to explore different approaches that can vary this pricing.
Contact us to look at your specific project needs. Our consulting service involves the following:
Review of your building plans and preferences
Review of your heat load
Discussion
Recommendations and Indicative Quote
Contractor referral
The referral includes your Indicative Quote to be used as the basis for your Final Quote.
We know that every client and project is different so we start by understanding your needs, priorities and vision for your build then propose a draft solution with indicative pricing.
Your Indicative Quote will be developed further with you, your architect and/or your builder into a Final Quote taking into account your preferences, budget, build requirements and timing also.
Once we reach agreement on the Final Quote and project plan, we will undertake the detailed design work looking at equipment siting, underfloor circuit or radiator layout, ventilation and air conditioning design, etc.
If you are installing solar power, we will work with your or our solar contractor to incorporate this as part of the whole solution.
We work with the best products in the industry and we have experience in heat pump technology going back to 1983.
We want you to be very happy with your system so we only use quality equipment with proven reliability, local Australian support and good product warranties. 
We work with the best and most experienced installers. The installation process starts at the beginning of the build with project planning and design work, followed by the rough-in of plumbing pipes and electrical cables. Towards the end of the build, we return to deliver, install and connect equipment.
We recognise that you have made a significant investment in heating, cooling, ventilation and/or water heating and that you want your system/s to function optimally for many years.
Our equipment suppliers are all leading companies with service desks and will be happy to deal with any warranty issues.
Our installers have service plans to ensure optimal performance of your system/s. We will be happy to discuss a service plan tailored to your specific needs.