Hydronic systems have been used for thousands of years. The Romans used hydronic systems in ancient times for heating spa water.
In using this for space heating, the heat can be delivered underneath your floor and rises naturally so you feel a lovely warmth from a low gentle heat that is not blown at you.
This is also good for your hydronic system because lower heat means less pressure and wear and tear on all components of your hydronic heating and cooling (in reverse cycle) system.
For more information: https://www.hydrosol.com.au/design-consultation/your-project/
Benefits of Hydronic Heating / Cooling
Rapid response heating options
Low allergenic and hygienic, no dust
Energy efficient heating and cooling
Improves your home's energy rating
Compatible with timber floors
Best form of heating, luxuriant warmth
Does not conflict with your room furnishings
Zone rooms to reduce running costs even further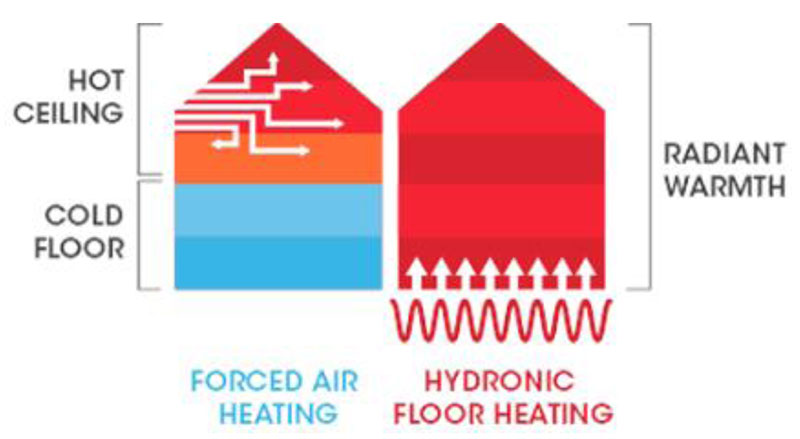 Underfloor hydronic heating is the most effective and comfortable form of heating by radiating heat under your feet rather than blowing it into a room, which can overly dry the air and affect people with allergies.
The ground floor is also usually where the living rooms and kitchen are located so these are the rooms where it makes sense to invest a little more because it is where you 'live'
Difference Between Heat Pump & A/C Heating
A heat pump uses a similar refrigeration system to a refrigerator or air conditioner, the difference is that a heat pump uses water as the medium to transfer heating or cooling from the outside air whereas an air conditioning system transfers heating or cooling directly to the inside air via fan coil indoor units.
In extreme climates, heat pumps transfer heating or cooling to/from a body of outside water or under ground. In Australia, the outside air is a sufficient heat source and the most cost effective way to do it.
Solar hydronic heating & cooling makes use of the sun to provide most or all of the energy source for hydronic heating and cooling. A heat pump exploits the solar energy transferred to the warm air we breathe, and so can use this energy both day and night, rain and shine. It does not depend on direct radiation from the sun.