Consider heat pump hydronic heating and cooling for your energy efficient all-electric home. With good home design and solar power, you can reduce the size of the heat pump. This reduces capital and operating costs. It also reduces greenhouse emissions, whilst improving indoor air quality and comfort.
With over 9 million homes in Australia and over 2 million with solar power, the opportunity is huge. 
Heating, cooling and domestic hot water typically represent around two thirds of your home's power consumption. This can be significantly reduced through good design, solar power and efficient electrical appliances.
Heat pump hydronic heating is more expensive to install than air conditioning but is more comfortable and efficient at heating. Here are the differences between heat pumps and air conditioners:
Heat pumps transfer heating and cooling to/from the air indirectly using water flow
Air conditioners transfer heating and cooling to/from the air directly using air flow
Apart from air, the heat source can also be water or underground, but air source is cheapest
Water is 3300 times more capable than air of transferring heat energy, therefore:
Thin water lines can be used instead of large air ducts
Thin water lines can be run underfloor and through radiators
Fan assisted convectors can draw air across warm or cold-water coils
Read more:
There are five types of hydronic heating and cooling methods:
Underfloor:
Best in cold climates needing heating mainly
Most comfortable form of heating
Cooling cycle is effective combined with fans
Cooling cycle tranfers heat from the inside air via water pipes to the heat pump outside
Most efficient, 1kW in gives 5kW out
Silent and does not blow allergens around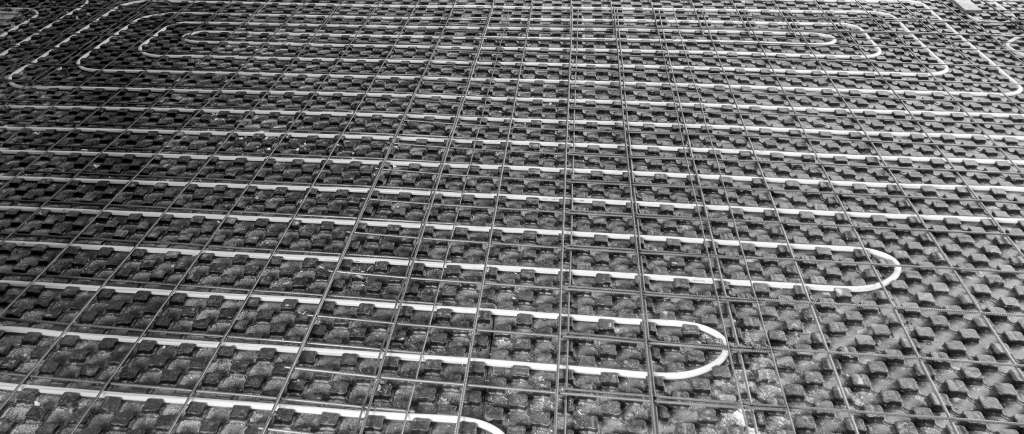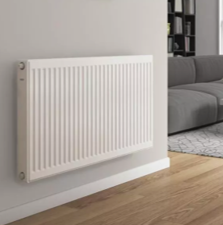 Radiators:
Best in cold climates needing heating mainly
Reverse cycle provides a cooling effect when humidity is low, combined with fans
Cooling cycle tranfers heat from the inside air via water pipes to the heat pump outside
Efficient, efficient, 1kW in gives 3.8kW out
Silent and does not blow allergens around
Fan Coil Convectors:
Can be installed in addition to radiators, much better at cooling than radiators
Ideal for space restricted applications
Can be installed in bench kickboards
Can be concealed above cupboards
Floor Trench Convectors:
Many trench grills available to suit most floors
Ideal for heavily glassed rooms
Can be installed beside sliding glass doors
Ideal for suspended floor with room for trench
For slab construction, the trench space needs to be provided in the slab plan
Hydronic Towel Rails
Used to warm and dry towels
Will heat a small bathroom
Designed for the humidity of a bathroom
Available in many styles and sizes to suit
White radiates better than chrome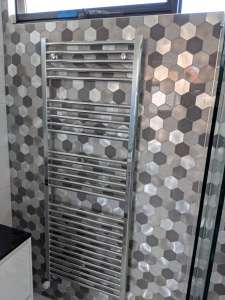 Other points:
A heat pump can both heat and cool whereas a gas or wood boiler can only heat
Air conditioners are better at cooling because air movement assists the cooling process
Heat pumps are better at heating because radiant heat is more efficient and comfortable
Air movement in heating mode creates air chill which works against the heating process
Operating Tips
Adjust your inside set temperature up and down with the seasons
Some adjustment with the seasons improves your body's ability to adapt to changing weather
Clean filters of your equipment, at least prior to each heating and cooling season
Design Tips:
Your home design should work in with your heating and cooling systems
Consider insulation, heat load and air tightness
Consider the sun's path and prevailing wind
If  your budget is tight, consider hydronic systems in family rooms and air conditioning in bedrooms
Install ceiling fans to reduce the effective temperature you feel by around 4 degrees
Zone rooms because you don't need to heat or cool your whole house all of the time
Two Storey Homes:
In summer, cool air from a/c falls to the ground floor helping hydronic cooling
In winter, warm air from hydronic heating rises up helping reverse cycle air conditioning