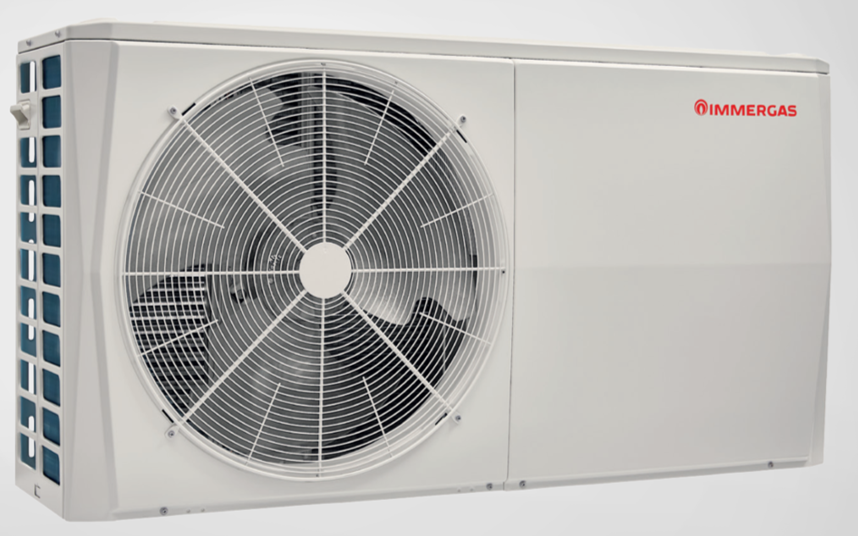 Consider Immergas Magis and Audax hydronic heat pumps for heating and cooling. They are made in Europe and include models from 6 to 30kW. These heat pumps can also reverse their cycle for summer cooling.
Immergas hydronic heat pumps extract heat from the air and transfer it to the circulating water. In winter, they find sufficient heat in the outside air, even if it is below zero. In summer, they remove heat from inside of your house and transfer it outside.
Hydronic cooling works best with chilled water through fan coil convectors. You can also use area cooling with cool water above the dew point with underfloor circuits. Area cooling works best when combined with ceiling fans.
Read more about hydronic cooling.
Immergas uses inverter technology for their heat pump range. This allows soft starting and variable compressor speed for optimal efficiency and longer life. They are ideal as stand-alone systems or can be combined with additional heat sources such as a fireplace wetback system.
Immergas hydronic heat pumps are very reliable and come with excellent warranties.
Run your hydronic heat pump system during the day with your solar power. This will give you low cost solar hydronic heating. Your winter heating or summer cooling will be absorbed by the internal thermal mass of your house then released into the evening.
A structural slab provides a lot of useful thermal mass but it should be insulated to hold onto the energy stored during the day. Therefore, if you have a new build, make sure your slab is insulated underneath and around the edges during construction.
Read more about slab insulation.
Choose a buffer tank for improved performance of your heat pump system. Oversize your buffer tank for greater thermal mass. Read more:
To work well, a house in a southern or cold inland climate should be thermally efficient with a Star rating of at least 6. It is better to have plenty of thermal mass within the building envelope such as a concrete slab.
Choose from a range of system controllers and thermostats that interface with your electronic devices. System controllers provide room zoning.