Holistic Approach
For good all-electric house design, we recommend a holistic approach. Try to incorporate your solar panels into your roof design and orientation.
Your house should have high thermal performance (see below). 
Consider carefully your heating, cooling and water heating because this accounts for more than 60% of your total power demand.
Install energy efficient appliances and plan for them to operate during the day with your solar power, as far as possible.
Your Outdoor Equipment
Think through the placement of your outdoor equipment at the outset. Design a small flat roof section if you have insufficient space on the ground.
Whilst modern outdoor units are fairly quiet, they do emit some airborne noise and vibration. Think about the rooms below and your neighbors next door. With some thought, you can effectively resolve these potential issues.
Also, think about the air flow for your outdoor units. The outlet air needs to get away from the inlet side for optimal performance.
Optimal Approach
All-electric house design requires of a balance between the aesthetics of your design, thermal performance and your budget. Therefore, explore an optimal approach. Contact us to assist you with this.
If you have a pool or spa, this opens up other options for heating them. For example, it is possible to heat a small poll using your hydronic heat pump with an external heat exchanger.
Hot water heating is another important aspect of your all-electric house design. Locate your storage tank as close as possible to your hot water taps to reduce heat loss and water loss. Should you choose a solar system or heat pump water heater?
An all-electric house that is  well designed has higher thermal performance measured by a Star Rating. This means less heat load in winter and cooling load in summer. Therefore, your heating and cooling equipment can be smaller, costing less to purchase and less to operate.
Ensure your all-electric house has thermal performance of at least 6 Stars.
Passive houses with 10 Stars require no mechanical heating or cooling. However, this is very difficult and costly to achieve. For most people living in a southern Australian climate zone, 6 or 7 Stars will be sufficient.
Design Factors
Make your home energy efficient for your solar hydronic heating design to work well. Get an energy assessment (Star Rating) done early when designing your all-electric house. Seek advice on how to achieve the minimum 6 Star rating.
Here are some factors that will be considered in your energy assessment:
Location climate (whether your house is being designed mainly for heating or cooling)
House orientation to the sun and prevailing wind
Shading in winter and summer
The internal mass of your house
The amount and type of windows, frames and glazing
Insulation of ceilings, walls and floors
Thermal bridging
Air tightness
Ceiling fans
More Information
Here are some links for more information:
Apart from design factors that affect your Star Rating, consider also in your all-electric house design:
House size, type and number of levels
Your preferences around heating and cooling methods
Your family's needs
Your budget
The resale value of your house is another important consideration. Look at your project as an investment. You will achieve a return on  your investment during its operating life and also upon sale.
Consider heat pumps for your all-electric house design because they are very energy efficient. Also, heat pumps can be powered by your solar panels.
You can use a heat pump for hydronic heating, which is the best form of heating because it is radiant. Consider heat pump hydronic heating if you live in a southern or inland Australian location with cool winters.
A hydronic heat pump can also cool in summer in reverse cycle, which a gas boiler can't.
If you have a pool or spa, you can use a heat pump to heat that also (refer below).
Heat pumps are ideal to use with solar power because they typically deliver heating or cooling 4 or 5 times greater than their power input. Hydronic heat pumps can store heating and cooling in the building mass for release inside during the evening.
Solar power is an important part of your all-electric house design. The challenge is to match the power demand of your electrical appliances with the power supply from your solar panels, as far as possible. 
Add solar panels if your roof has good direct sunlight and you can orient solar panels to the north, west or east.
This will be cost effective for you particularly if you plan to stay in your home for more than 5 years.
With good house design and high thermal mass, you can run your heat pumps and air conditioners largely during the day using your solar power. This will give you very low operating costs.
Read more: Managing Your Solar Power
Consider Energy or Heat Recovery Ventilation (ERV/HRV) for your all-electric house. New builds and renovations with thermal performance above 6 are well insulated and well sealed so they need good ventilation.
ERV ventilators transfer both dry (sensible) heat and humid (latent) heat from the stale outgoing air to the fresh incoming air. Therefore, ERV ventilators are ideal for the humid conditions of northern Australia.
On the other hand, HRV ventilators transfer dry heat only. Therefore, HRV ventilators are suited to the dryer conditions of southern Australia.
Consider adding ERV or HRV ventilation to reduce your heat load and to keep your house feeling fresh and airy without the need for opening windows as much.
Read more: Heat Recovery Ventilation BLOG
Consider adding air conditioning to your all-electric house design if your location is prone to a lot of extreme heat, humidity or if your home has multiple levels.
Whilst heat pumps are very good at heating and can cool in summer, air conditioners are designed for cooling and better at this. 
There are several types of air conditioning systems to consider. Explore which type is best for your design.
Read more: Best Air Conditioning Systems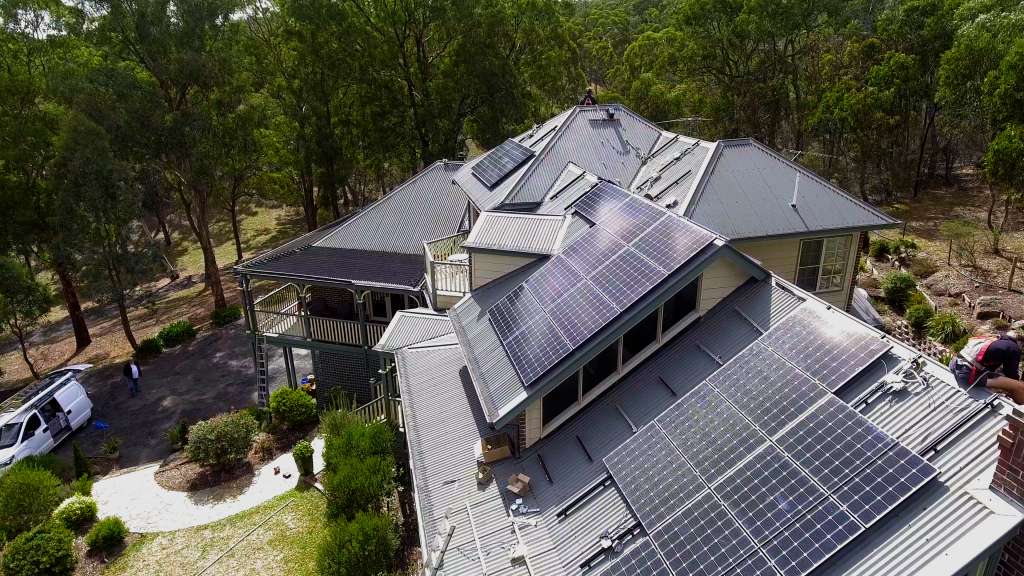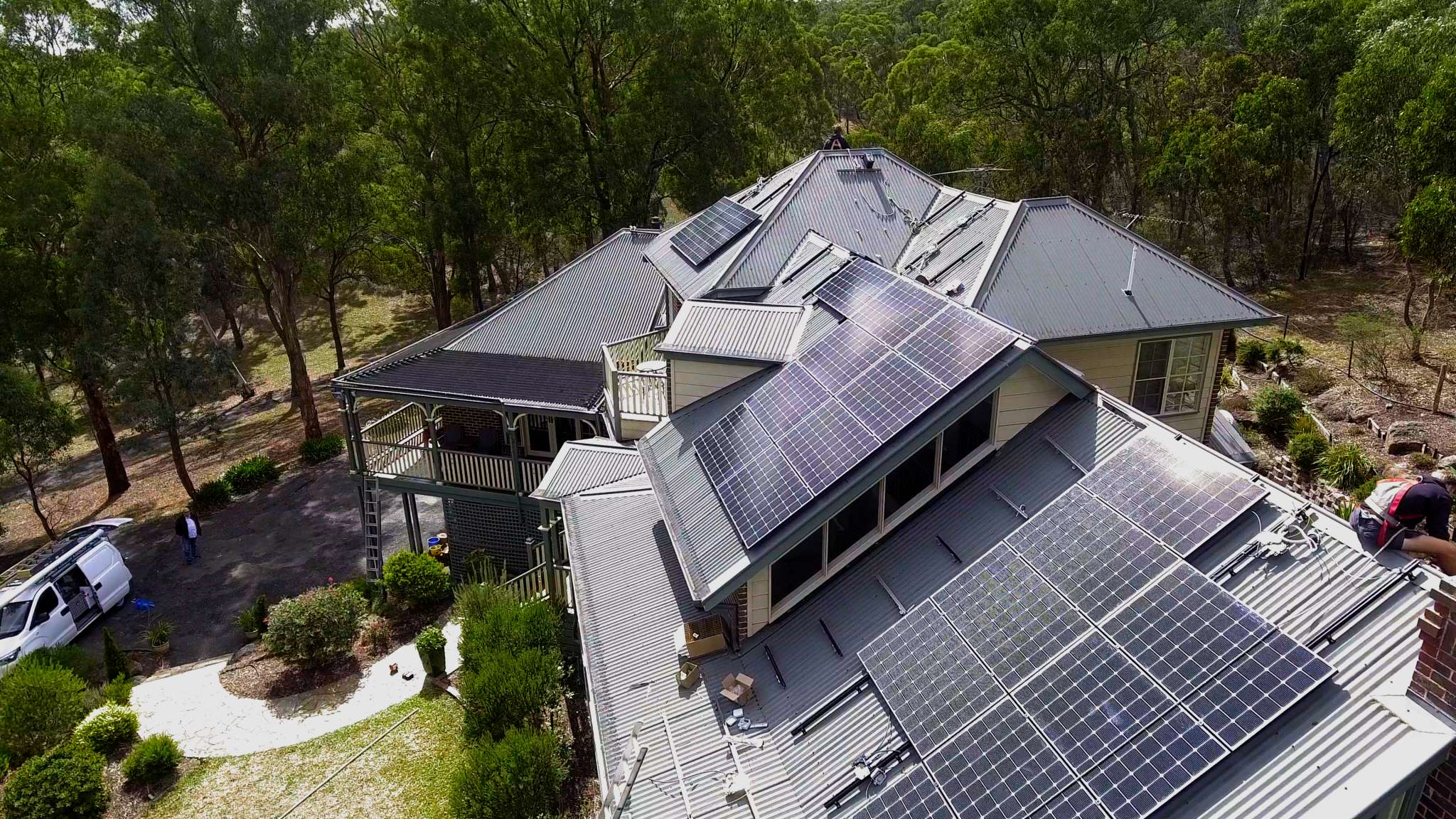 Off-grid Homes
For off-grid homes, all-electric house design is critical. Therefore, consider carefully your options to improve thermal performance throughout the year. This will reduce your need for mechanical heating and cooling which typically accounts for more than 40% of your power demand. 
If you have plenty of wood available, then you may want to use that for heating. However, heat pumps can provide a reliable back up for wood heating. Set them to  standby and they will automatically add to the heating load as required.
Also, heat pumps can cool efficiently in reverse cycle in a dryer climate. Hydronic heat pump cooling works best with underfloor hydronic circuits and ceiling fans. If you have radiators, consider adding fan coil convectors to your hydronic system or install separate air conditioning.
Read More: Australian Off Grid Homes, 6 Examples
Consider a heat pump for heating your pool or spa. They do not take up roof space that could otherwise be used for solar panels. Also, they can extract heat from the air even when it's cold, raining or dark, so are ideal for heating during shoulder seasons to extend your swimming season.
Explore whether your hydronic heat pump may be suitable for heating your pool or spa. This will depend on:
Your climate
Size and depth of your pool
Desired water temperature
Use of a pool blanket
Pool use through winter
In general, if your pool is less than 30,000 litres, your hydronic heat pump may be suitable. If your pool is larger, then a dedicated pool heat pump will be more appropriate. Your hydronic heat pump will need a suitable heat exchanger to separate the corrosive pool water from your hydronic heat pump.
Read more: Astral Pool Heat Pumps
We know that every client and project is different so we start by understanding your needs, priorities and vision for your build then propose a draft solution with indicative pricing.
Your Indicative Quote will be developed further with you, your architect and/or your builder into a Final Quote taking into account your preferences, budget, build requirements and timing also.

Once we reach agreement on the Final Quote and project plan, we will undertake the detailed design work looking at equipment siting, underfloor circuit or radiator layout, ventilation and air conditioning design, etc.
If you are installing solar power, we will work with your or our solar contractor to incorporate this as part of the whole solution.

We work with the best products in the industry and we have a lot of experience with heat pump technology.
We want you to be very happy with your system so we only use quality equipment with proven reliability, local Australian support and good product warranties. 

We work with the best and most experienced installers. The installation process starts at the beginning of the build with project planning and design work, followed by the rough-in of plumbing pipes and electrical cables.
Towards the end of the build, we return to deliver, install and connect equipment.
Once everything has been installed, we commission your system/s and connect your them to your home WIFI.
The main equipment is WIFI enabled, giving you control and monitoring through your electronic devices.

We recognise that you have made a significant investment in heating, cooling, ventilation and/or water heating and that you want your system/s to function optimally for many years.
Our equipment suppliers are all leading companies with service desks and will be happy to deal with any warranty issues.
Our installers have service plans to ensure optimal performance of your system/s. We will be happy to discuss a service plan tailored to your specific needs.