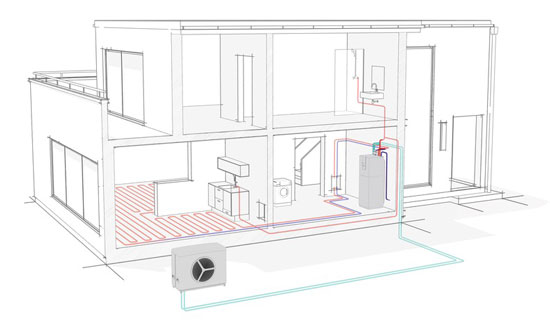 Air Conditioners for All-Electric Homes
Air conditioners provide cost effective cooling and heating. They provide a good option for all-electric heating and cooling.
Consider also combining air conditioners with heat pumps. This makes a lot of sense with two storey homes. This is because air conditioners are best at cooling whilst heat pump are best at heating. Both systems can also do the opposite.
Installing radiant heat from heat pumps on the ground floor makes sense because heat rises. Radiant heat does not need forced air which makes your feel warmer.
On the other hand, installing air conditioners on the first floor also makes sense because cool air falls. Conditioned cool air is best delivered with fans. This provides an added benefit with the movement of air in that it makes you feel about 4 degrees cooler.
Ducted Air Conditioners
Ducted air conditioning allows you to have excellent control over your heating / cooling system and provides even air distribution through all rooms.
Some of the major benefits of ducted air conditioning are:
Control: Central temperature setting with minor room zone controls.
Even air distribution: Every room has even heating / cooling.
Value: For multiple rooms, it is cheaper to install ducted air conditioning than wall hung split systems.
Aesthetics: The only intrusion to the room is a flush mounted vent that blends with the ceiling.